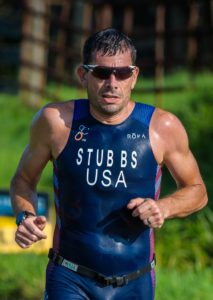 Hi my name is Dave and I'd like to welcome you to one of the greatest sports and sporting communities you will find.  I wear many hats as husband, father to 3, IT guy by trade, part time bike rack wrangler and many others.  I can apply many lessons I've learned through training and racing to my family, faith, career, friends and life in general.
I was always athletic growing up and enjoyed playing team sports.  After getting married, three kids, a busy career, business owner… sport and fitness took a back seat.  There was a knee surgery tossed in there too, team sports came at a cost.
At one point I even smoked and weighed 265lbs.  A timely article in early 2009 about a local triathlon while quitting smoking and losing weight loss planted a seed.  Something clicked with the sport and the rest is history.  I've won a few races here and there, been an All-American, and competed at Nationals and Worlds.  Some of the best 'wins' and rewards are the relationships and friends I've made along the way.
In addition to being an Ambassador and athlete, I also staff with Kinetic.  It has been a wonderful opportunity to give back to the sport.  It's also an amazing team I get to work with here at Kinetic.
I am passionate about the sport in many ways and always ready to talk about my journey, gear choices, training, diet, race strategy… and the list goes on.  I look forward to meeting you and hearing your story… see you at the races!