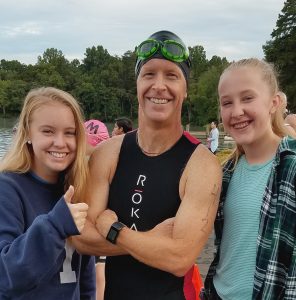 My name is John Turner, and I have been active in triathlon for almost 12 years. The sport did not come easy though, and my first attempt ended when I made it to the first buoy and swam back to shore in a panic. Luckily I stuck with it and it has become a part of my life ever since.
Being active is important to me and have integrated it into our family life. Some of our best family trips have been associated with races and events. From the Queen K to the Westernport Wall, we have shared them together. As a result, I have been blessed with active children, who share the love of sport and competition.
Over the years I have raced every distance, all of the nation and internationally, and while having plenty of slow days, never one where I was not grateful to toe the line. I continue to be amazed at how the sport opens its arms to all, and I hope that I can be a small part of that welcome committee.