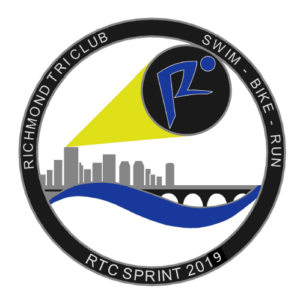 FREE 2019 Race Photos HERE The photos were taken by club members Mark Bare and Chris Schuessler! They are FREE to download, or you can order prints from Smugmug.
The Richmond Triathlon Club Sprint Triathlon Presented by Angus Dentistry is located at the SWIM RVA facility at Ukrop Park, home of the 2008 Olympic Trials pool! This venue features a 50-meter, 7'7″-all deep pool, allowing us to offer the most unique pool swim experience in triathlon – a 400m open water pool swim. No more waiting for hours in the cold to get into the pool. No more problems with "improper" seed times. All athletes will be in the pool within 25-minutes of the start gun. There is an additional 25 yd warm up pool for those who wish to warm up prior to their wave start!  Follow the swim with a 20k bike, 5k run and a breakfast feast!
The Richmond Triathlon Club pulls out all the stops and puts on a great event that you will want to bring friends and family with you to race or watch. Check out this video on how the open water pool swim works! HERE
Online Registration is now closed!
Richmond Triathlon Club Sprint Triathlon Presented by Angus Dentistry
Saturday, April 27, 2019 at 7:00 AM
Triathlon: 400 Meter Swim (Pool); 20K Bike (Rolling hills); 5K Run (Flat)
Aquabike: 400 Meter Swim (Pool); 20K Bike (Rolling hills)
Details
Packet Pickup
Lodging
Novice Athletes
Training
Volunteer
Partners
Swag

Race Information
You'll love our swag!  All athletes receive a tri-blend race shirt, custom race socks, and a super cool, RTC themed finisher's medal.  Also, don't forget the DJ, bounce house and signature RTC post race catered breakfast feast.
Race categories available for this race are Age Group, Aquabike, Relay Teams, Clydesdale, Master's Clydesdale, Athena, Military, Collegiate, High School and Novice. All categories are scored 3 deep.
All Kinetic Multisports races are USA Triathlon sanctioned events. Click HERE for a brief description of common USAT racing rules and how you can avoid getting a penalty in this event.
All Kinetic Multisports race registrations are non-refundable.  There are however options for race registration insurance and a one time deferral.  Visit our FAQ's for more details.
Join the Richmond Triathlon Club (RTC)!  As a club member you get a discount on this event and get to train with and play with triathletes throughout the greater Richmond area. The RTC is over 800 members strong and is a group devoted to promoting multi-sport activities in the central Virginia Area.
All registered athletes will receive an email on the Wednesday or Thursday before the race with all the information pertaining to their entry to include bib numbers, wave start list with start times and any last minute details to make your race weekend go smoothly!
Race Policies
Directions
Athlete Guide
Participant list
FAQs
2 Options for Packet Pick Up
1. Date: Friday
Time: 5-7PM
Location: Swim RVA Pool (Race Site)
Pre-Race Meeting: 6pm at the (Swim RVA Pool; Race Site)
Race Site Address: Swim RVA – 5050 Ridgedale Pkwy, Richmond, VA 23234
2. Date: Saturday
Time: 5:15-6:15AM
Location: Swim RVA Pool (Race Site)
Pre-Race Meeting: 6:40 AM on the pool deck
Note 1:  All participants must collect his/ her own event packet. Photo ID is required in order to collect event materials. NO ID = NO EVENT.  HINT if you take a photo of your ID with your phone, that will be sufficient for photo ID purposes. 
Note 2: There will be NO race day registration. The last day and time to register is at packet pick up on Friday (If you show up on Friday you will get in).
Pre-Race Meeting: An extensive pre-race meeting will take place at 6 PM on Friday. If this is your first race, come to this meeting to have your questions answered.  A second brief meeting will occur at 6:40 AM on the pool deck race morning.
Holiday Inn Richmond South – Bells Road
4303 Commerce Road
Richmond, VA 23234
Thank you for making this event your first triathlon! There are many more people like yourself who will be racing this type of event for the first time. Please note that if you register as a Novice, you will be scored in the Novice division, not your Age Group. By registering as a Novice you will start the race in the last wave of athletes if the race is an open water swim.
USA Triathlon requires each triathlete to either have a current membership or purchase a 1-day license. The 1-day license can be purchased when you register. The cost of a 1-day license is $15, an annul membership is $50 for adults and $10 for kids under 18.
Below are links to additional information that you will want to review before race weekend.
Find a Club: Are you looking for a fun group of athletes to work out with? Find a club near you using the USAT Club Finder.
Training Articles
If you are interested in volunteering with the RTC at this event, click HERE.
 Tri-Blend
Cotton T-Shirt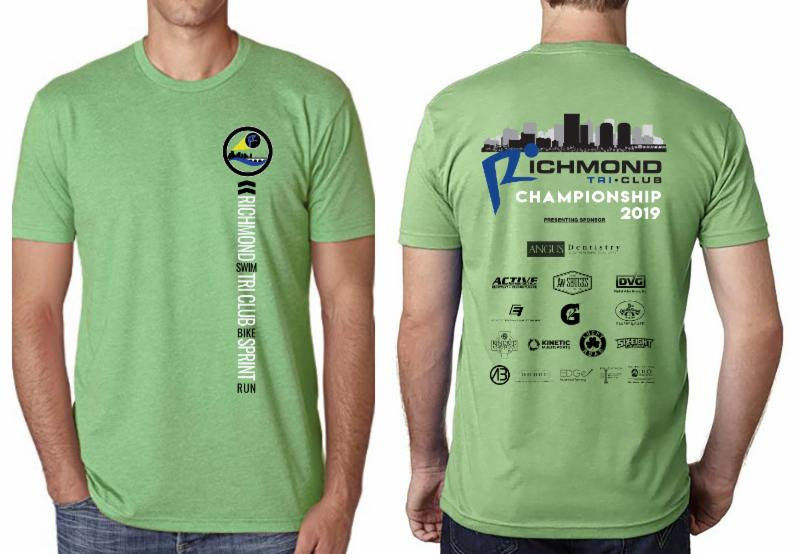 Custom Race Socks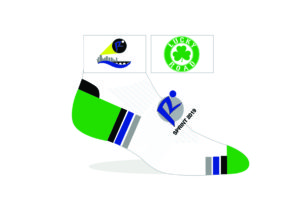 Custom Finisher Spinning Medal