Welcome to Kinetic Multisports and the Race for the Kinetic Cup! All races produced by our team and hosted on this website will be scored for series points each year with the exception of the Draft Legal events. Now with over 38 races in 4 states, there are more racing options for more athletes to win a spot on the Kinetic Cup!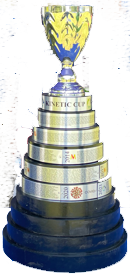 Individuals who compete in a minimum of 5 scored events in the same category in the same race year are eligible for series awards (Relays are not scored). Aquabike we will have overall scoring only. For any scored event in which one receives a "disqualification" (DQ) or a "did not finish" (DNF) one will receive zero (0) points. For an event to count towards ones 5 scored events one must complete the swim portion at minimum.
Scoring 
Remember – only the 5 HIGHEST scores in the series in the same year are counted together. There is a column in the standings that is called "count". That number is the number of scored events that person has competed in. You must compete in at least 5 Kinetic Multisports events to qualify for the Kinetic Cup series awards. Also, remember events competed in as Relay, and Draft Legal are NOT scored or counted towards series scoring they are counted towards Q3, Q5, Q10 prizes. Aquabike will be scored with awards going to the top 5 Overall, but they do not count towards the triathlon category and are NOT eligible for the Overall Cycling kits.
We will have a Collegiate category at the following events only: Patriots Sprint, Giant Acorn Olympic, Waterman's Sprint.
Series Weights, Categories, Divisions and Rules
2024 Race Categories and Divisions and Rules
2024 Race Weights and Scoring
2024 Series Awards
Top 5 Overall (M & F)
Top 5 Overall Masters (M & F) – age 40+ only
Top 5 Age Group (M & F) – 15 & under, 16-19, 20-24, 25-29, 30-34, 35-39, 40-44, 45-49, 50-54, 55-59, 60-64, 65-69, 70-74, 75-79, 80-84, and 85+
Top 5 Athena
Top 5 Clydesdale
Top 5 Military (M & F)
Top 5 Aquabike Overall (M & F)
Qualifiers Rewards
Qualifications Rules and Stage Qualifiers!
The Top 5 Overall Men & Women in the Triathlon Series (NOT age group/category or aquabike) and Top 5 Overall Masters Men & Masters Women in the Triathlon Series (NOT age group/category, or aquabike) will be awarded custom Pactimo Kinetic Multisports Cycling Jerseys & Bib Shorts!  2022 Overall Winners Jerseys pictured!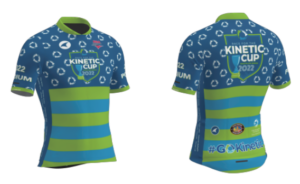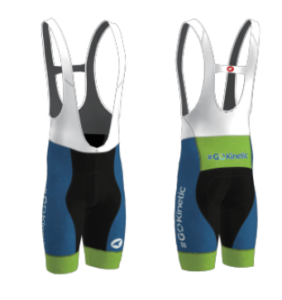 Any athlete who participates in a minimum of five (5) 2023 Kinetic Multisports events will qualify for Kinetic Cup Series scoring and qualifier rewards.
The tiered qualifier system will work as follows: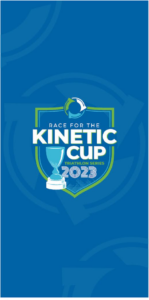 2024 Information Coming Soon!
2023 Stage 1 Qualifier: Q3 Any athlete who participates in a minimum of 3 Kinetic Multisports events will receive a Race for the Kinetic  Cup Silicone Swim Cap at Packet Pick Up!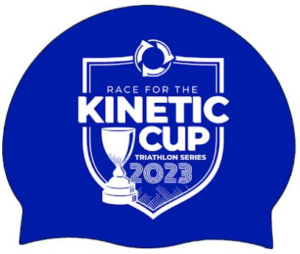 Stage 2 Qualifier: Q5 Any athlete who participates in a minimum of 5 Kinetic Multisports events will eligible for Kinetic Cup Series awards and will receive a Race For the Kinetic Cup Special Beach Towel!
Stage 3 Qualifier: Q10 Any athlete who participates in a minimum of 10 Kinetic Multisports events will  receive a custom Kinetic Multisports Qualifier Jacket!   (Your custom jacket will be mailed to you after the season). Pictured is the 2021 Q10 Jacket, this jacket is different each year.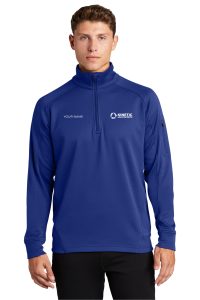 Race For the Kinetic Cup Series Awards – Each athlete placing in the top 5 of each age group or category (with 5 races) will receive an award.  2022 Awards are pictured.  Awards differ from year to year!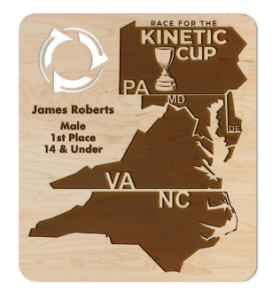 Read more about the USAT Rules.