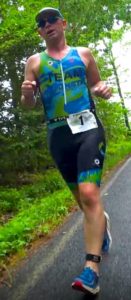 I have been competing in triathlons for 12 years.  Having my own ambassador to help me when I began competing in Triathlons made all the difference in the world with swimming, biking and running as a Triathlete. I have competed in over sixty triathlons in the Sprint, Olympic, Half and Ironman distances, and Ironman Maryland in 2015 in 13:08, was the highlight of my Triathlons.
For ten years, I have been the Athletic & Recreation Center Director at St. Mary's College of Maryland.  Two years ago, I reached out to Kinetic Multisports about hosting a triathlon on our scenic campus and was excited to present the 2017 St. Mary's Triathlon Festival.
I can't compete in triathlons without the support of my wife, Stacey and children, Rachel and Reid – and that is very important to me.